What Oklahoma State is saying about the SEC matchup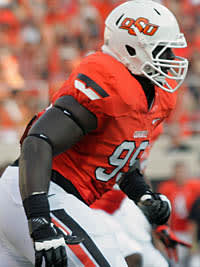 The masses are finally getting what they want, one of the biggest rivalries in college football that hardly ever gets to be settled on the field.
The Big 12 Conference against the Southeastern Conference. Speed against power, offense against defense, new school against old school.
Oklahoma State vs. Mississippi State is one of the big games in the Big 12 vs. SEC matchup this season, with TCU and LSU headlining the other.
OSU players have been talking about the dreaded SEC since 2011, the year they were left out of the National Championship Game in favor of Alabama and LSU, after suffering a loss to Iowa State in the second-to-last game of the regular season.
The plot thickened after Texas A&M moved from the 12 to the Southeast, and beat eventual National Champion Alabama, and almost everyone else while still running a tornado alley system.
The Cowboys have had plenty of time to dial in their opinion on the SEC and their matchup with the Bulldogs next Saturday in Houston. Here's what a few of the Pokes had to say about it.
I'm definitely excited to go up against an SEC defense. Obviously, it's a strong conference and a nice challenge. I'm definitely excited to see how we all perform. We're ready to show what one of the Big 12's best can do against an SEC team. We hear all that stuff about the SEC so we're ready to show what we have. We respect their conference, we want them to respect ours as well.
Everybody has their perception of what's gonna happen and what's gonna go on. Everyone wants to see certain parts of it, they wanna see our offense. We have a really explosive offense, they're gonna see that regardless. The fact that our defense isn't being spoke of, I feel a certain way about it but it's nothing to be mad about. There's no reason (to have a chip on our shoulder) because at the end of the day we're gonna play hard, we're gonna turn the ball over, and we're gonna try and beat all our goals and win the game.
Defensive Coordinator Glenn Spencer:
I've watched a little bit of them every day and we chip away at the game plan. A lot of times it'll come down to who has the low pads and is tough. You can't have them outnumbered every snap, they do too many things well in the run game, so there's gotta be a point in time where guys have gotta take care of business, get off a block and take care of the play. They see the film just like we do, so they know what they're in for."
"We're looking at it as just another game, but it'll be a good one. We're excited to finally get to prove something instead of talking."
"We're a definitely a good, physical football team. Me, personally, I feel like I've been a little more physical than most receivers are. As a whole, we're really physical. I don't think anyone in the SEC is more physical than us. Yeah, we play a different style, but it's the same level of physicality. It's gonna be difficult for them and us. I'm looking forward to the game."
"You know, I just think that the SEC is blown a little bit out of proportion. There's a lot of great players down there and it's a heavily recruited area, but at the same time we play really fast offense here and sometimes those SEC defenses lose their breath against it. They have big guys but they aren't very well conditioned. We're gonna play our best ball and see what happens."