Joseph Randle shares his NFL Combine experience with OSI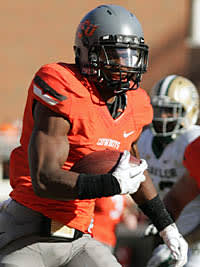 We're in full-swing as far as the NFL Draft goes, and Oklahoma State's biggest name, former running back
Joseph Randle
was in the mix last weekend in Indianapolis at the NFL Combine.
Randle's name is included in just about every record category in Stillwater, and because of his dominance over the last two years, he decided to forgo his senior season and try his hand at the NFL.
In preparation of not only the NFL Draft, but Oklahoma State's Pro Day next Tuesday, I got a quick conversation in with the back to talk Combine, training, and the NFL in general.
Here's what he had to say.
So to start out, how was your weekend in Indianapolis at the NFL Combine last week?
Oh man, it was long. You're talking to coaches constantly and you're always doing something. That whole weekend I probably got about ten hours of sleep, one morning we even got up at like 4 a.m. to start doing stuff. It was definitely long but it was great, you got to meet with a lot of different coaches. I think I met with every team's running back coach, then the formal meetings with the head coaches in there, I think I had seven of those. So yeah, it was a good deal.
I know you had the thumb surgery that held you out of a few things, but was there an event that you did better in that you thought you'd do worse in? Or vice versa?
Honestly, it was more of me feeling like I was playing in a game (as far as the thumb injury goes), so I felt like I had to go in there and at least give it a try. I didn't bench press, and I haven't gotten to do that since I had my surgery. I had my cast on from that, but the doctor didn't say I couldn't catch, so I went out there and tried to do that, then ran my forty and all of those things. But right now, I'll be cleared to do everything at the pro day next Tuesday except for bench press. I just got my cast off the other day.
You mentioned getting up early, but as far as the whole weekend goes, what was the hardest part of it all?
Oh, it was a great experience overall, but I guess not getting to sleep as much was tough. We got up at 4:30 a.m. for the drug testing one day, then we went right into the day after that because you had to sit in line for a while.
What was the most fun part of it all?
The best part of the weekend was just getting to see all the coaches you see on TV all the time. You're finally in there with the guys like Jim and John Harbaugh, Andy Reid, just a bunch of different coaches you see everywhere and on TV all the time. They're just walking around the hotel and you get to meet with them. Jason Garrett and Rex Ryan were out there, just a bunch of different guys you look up to growing up, then you're in there talking to them. Tom Coughlin from the Giants was there, you get in there and they just grill you with all the questions they ask you.
And that actually leads into my next question, a majority of the weekend is meetings with coaches and teams. You hear about all the crazy questions players get asked during the team interviews. Were you asked anything crazy that you can share?
Honestly, I'm good with all that kind of stuff. They just try to see who's going to fold under pressure and say the wrong thing. They're just trying to see how you handle pressure, because most of the stuff they're asking you, they already know the answer to so you might as well be honest about it all. They'll ask if you've smoked weed or smoke weed and all that stuff, stuff like that.
I watched you at the Combine, but a lot of people in Stillwater haven't seen you since the bowl game. What have you been working on and tightening up since then?
I've been working on my forty a lot. I got held back a little bit and I only got to train for about a month. So I've been working on that stuff, all the drills that they do at the combine and that we'll be doing at the pro day.
What was some of the feedback you got on your game from the coaches and people up there? So many people talk about the "prototypical running back", but you can catch the ball out of the backfield, bock, and do so many other things. Was it positive?
Man, name a prototype running back. There isn't one. From Darren Sproles all the way to Brandon Jacobs, running backs don't have a prototype. It's just whoever can run the rock and do the stuff they've got to do. I got good feedback, though. They put on the film and see it. You'll go into meetings and they see if you really know something. If you know it, you can teach it somebody else. If you can't teach it to someone else, you really don't know if very well. They just want to go in there and talk football and see what you know. They have the film, but they want to check your intelligence out too.
Randle, Quinn Sharp, and many other former Cowboys will be on display next Tuesday at the Oklahoma State Pro Day. The event is closed, but I will provide constant updates on my twitter account at @brendon_wm.